WEE-Dance-
Our WEE Dance is a fun and creative class for Mommy (or Daddy/caregiver) and a tot. It is designed to help aid in the wonderful development of skills appropriate for a 2-year-old. For this reason, our class uses a parent or caregiver to help us orient the child into a classroom setting encouraging the development of fine and gross motor skills. These skills are developed through the use of music, dance, and constant support of those who love them. Along with assisting in the development of motor skills in the children we incorporate sharing, taking turns, and following directions. These aspects all lead to the development of socialization and additional necessary skills of listening and following directions to give them a great start before or while they begin pre-school.
Click here to read our WEE Dance brochure
PS1, PS2, (Pre-School) and Child (Kindergarten)
| | | | |
| --- | --- | --- | --- |
| Schedule | PS1 Ballet/Tap (Ages 3/4) Mon 3:30pm- 4:45pm, Tues 4pm-5pm | OR | Saturdays 9:00am- 10:00am |
| | PS2 Ballet/Tap (Ages 4/5) Mon 3:30 pm- 4:30pm, Tues 4pm-5pm | OR | Saturdays 10:00am-11:00am |
| | Kinderdance Ballet/Tap (Ages 5/6) Mondays 4:30pm- 5:30pm | OR | Saturdays 11:00am-12:00pm |
These classes are fun and exciting intro classes to ballet and tap dance. They focus on coordination, self-expression, and musicality in fun, creative and imaginative ways. Dancers learn many cute songs with dance steps that they will be singing to you throughout the year. They learn the importance of taking turns and working together in a structured class where they learn to take turns and be kind. We will keep students entertained and help them to acquire a lifelong love of dance.
The first few weeks of classes serve as an introductory phase to help students become comfortable with the overall dance experience, the classroom, their teacher, and their classmates. Right from the beginning, we focus on your child's coordination, listening skills, musical awareness, and developing imagination. We accomplish this through age-appropriate music and song, simple stretching exercises, ballet and tap basics, games in an environment of creativity, and plenty of smiles.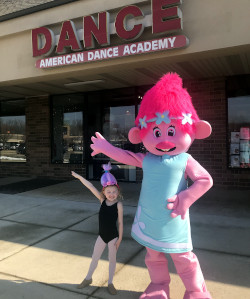 Preschool dance is about encouraging children to learn to tap into their imaginations and express themselves creatively, not necessarily about learning steps (although they do get introduced to some basic steps). Our pre-school classes are taught by highly trained professionals with college degrees in education and/or music.
Preschool students (PS1, PS2 & Child) perform one dance routine in our annual recital. They also have the optional opportunity to perform in our semi-annual Christmas show too 2023 is an off year but we hope they can join us next time!
We recommend that children be encouraged to practice at home but not forced to do so. Repetition is one of the key elements for success with preschool dance students as the more they practice, the more confident they will feel. Practicing with your child allows you to join in the dance experience.
Throughout the year, during our classes, we have special dress-down days, Bring a Friend week, Parent Observation week, and special holiday dance days. We also offer optional monthly "parties" for dancers ages 3-7 that have proven to be highlights of their dance education as we incorporate steps we have learned in class with special arts and crafts. We often have special visitors during this time too!
Note on Separation From the Parent
The process of separating from the parent as the child attends dance class is an important accomplishment of preschool children. As children mature, they begin to identify themselves as independent personalities. In separating from you, the parent, your child is learning to develop interest in dance, to feel comfortable with other children and to understand that their parent will return to pick him/her up. It is important to know that at times young children will explore the limits of attending dance class and say they don't want to go. This period may occur anytime, but it is usually short-lived. Here are some suggestions that might help you handle the situation:
• Emphasize what the child is doing at the dance class rather than what you do while he/she is in class
• Before you leave, see that the child is involved in an activity or is in the hands of a teacher.
• Avoid prolonged good-byes
• Ask the teacher for help in separation. We expect the crying (and usually the tears are for the parent's benefit).
If your child cries or does not want to take class, don't panic. If we push children and create more stress than they are already experiencing, they may come to perceive dance class as a bad experience. That kind of negativity could make them apprehensive about dance for a long time, which isn't good for anyone involved. Never force your child into the classroom.
If your child stops attending class within the first month, the registration fee and last payment will be credited to the following year or summer camp. We encourage you to have your child try again next year.