Where your child takes dance class matters! When looking for a studio, find one that has knowledgeable, experienced teachers. Consider ones that care more about your child's personal and technical development than awards and studio recognition. From the first "rite of passage" ballet class to the advanced, technique-driven dancer, find a place that will inspire passion and self-confidence in each and every student. At ADA we want your child to find joy in dance, to inspire them to connect with their inner artist, and to encourage them to lead healthy lives. We promise to make those our goals from their very first class at our "home" and welcome them to join the ADA dance family!
Our Facilities
Conveniently located on Route 7 in Lantana Square, we are easily accessed from both Delaware and Pennsylvania. The large shopping center allows for quick and easy drop-off and pick-up and has ample parking. With multiple stores and restaurants, there are tons of food and shopping choices to visit before, during, and after classes, no matter the time of day.
Our state of the art facility includes 2 dance rooms complete with hardwood sprung dance floors and high ceilings, a large waiting room with 36" flat screen viewing monitors for each dance room, and a student lounge in the back where older students can relax, do homework and prepare for their classes.
We have a special top of the line floating dance floors that are built with a special cushion for dancers. We put the floor in the studio to help prevent injury and to help dancers work on attaining height in jumps and leaps.
Our Faculty
ADA is proud to have some of the most experienced and highly qualified professionals running every class. Each member of our staff has been teaching dance for multiple years and has higher education backgrounds in fields such as dance, music, education, and child development. All with 5 years or more spent at ADA, each faculty member knows the ins and outs of the studio rules and philosophies, and how to effectively structure and run classes to improve, inspire, and train successful dancers.
Our pre-school and elementary age teachers all have decades of experience working with children 10 and under. They not only have extensive dance backgrounds but effective classroom management skills and upbeat personalities that keep class fun. They are all able to teach basic technique and body coordination in developmentally appropriate ways while tailoring the class structure to each individual group.
The intermediate and advanced dancers are trained by teachers with years of professional dance experience. Our teachers have attended arts universities, been a part of professional dance companies and pro-sports dance teams, created and run professional and pre-professional teams, and teach dance at the university level. They have first-hand knowledge of the dance world and know how to prepare dancers who want to continue dancing after high school. We also bring in dancers and choreographers currently working in the industry for master classes multiple times a year. Please see our "Teacher Bios" and "Guest Teacher Bio" pages for more information on our staff.
The Yearly Recital
American Dance Academy has been providing students with an exciting opportunity to expand their dance training and perform in a professionally run show-the yearly recital. Many of you may remember these images from your own childhood. It's a rite of passage for thousands of youngsters, a chance to shine in front of family and friends that they anticipate with nervous excitement.
A big part of the dance training process includes learning through performance. The experience helps to build self-esteem, self-assurance, and contributes to a sense of confidence. Performance opportunities also contribute to success in various aspects of a child's non-dance activities, including better in-school presentations, better social skills, stronger interview skills for future college or job opportunities, and preparation for a professional performance career.
The choreography process is a tremendous learning experience as well. It helps the child develop retention skills, and working with classmates to create a group performance sets the example of the positive aspects of working as a team to create the best end result.
The recital offers our students and their families a professionally directed performance allowing our students the opportunity to present the results of an entire year's hard work, dedication, and progress. Recitals have proven to be special experiences children truly love and treasure throughout their lives.
Holiday Show
ADA proudly puts on a bi-annual Holiday Show. Registrations begin in September at the studio and rehearsals are held each week until the show in December. Participation is optional but has proven to be a wonderful and fun experience for all involved!
It is a toe-tapping, high-energy show, fun for all ages. From Gingerbread Cookies to Angels, to Snowmen, Elves and Santa's Helpers (perhaps even Santa will show up!)- You are guaranteed to have a great time participating and/or watching our show!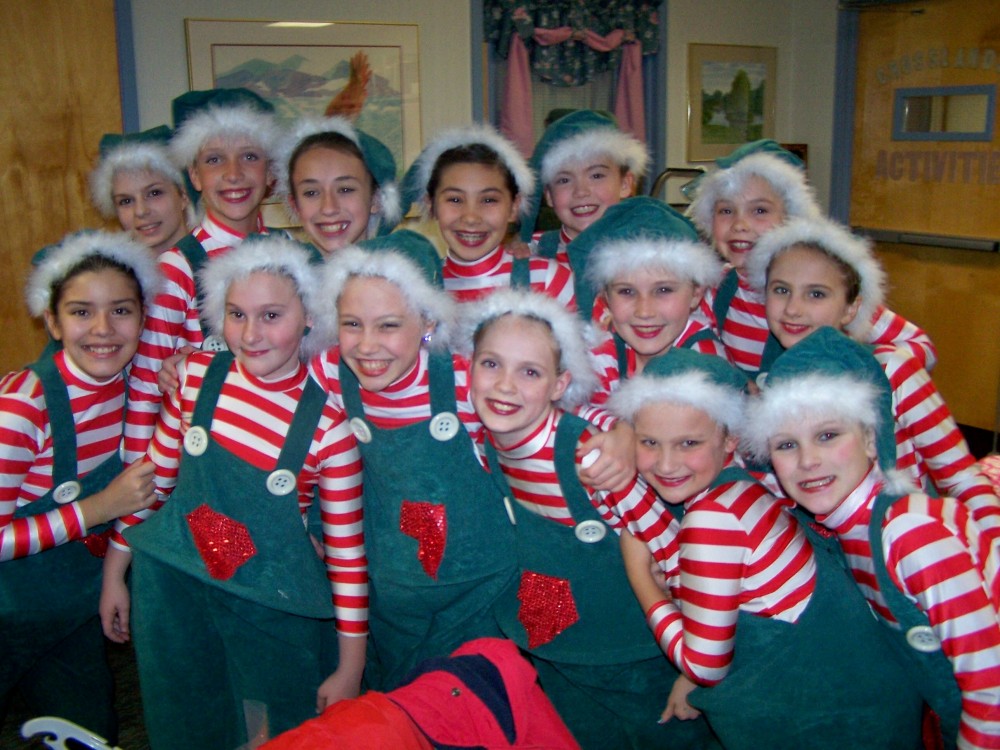 Our next Holiday Show is Winter 2024!